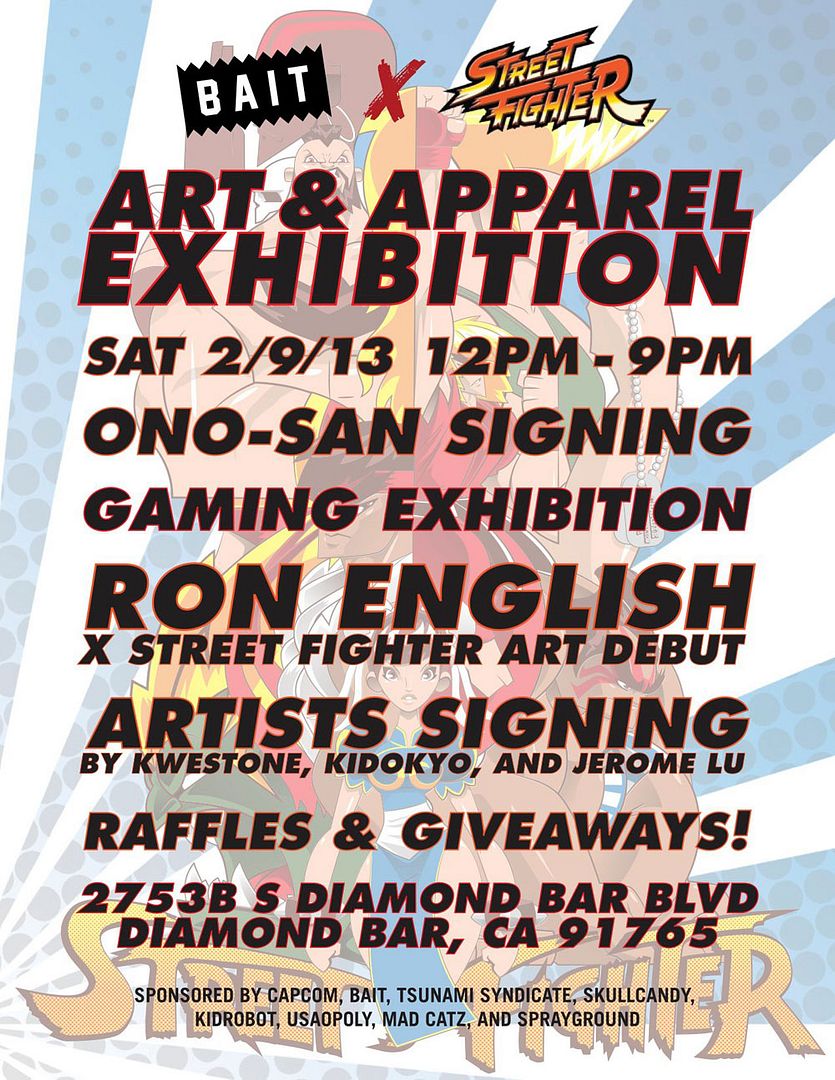 Another RAD event is going down this Saturday for all you folks in or around the Los Angeles area as
BAIT
is hosting a special Street Fighter themed event this Saturday, February 9th!!! This event will celebrate the iconic video game franchise and will include an art exhibit, a Street Fighter tournament, a Swag Shop which will be selling all of the newest, coolest Street Fighter collectible items and gear, and more! A special art exhibit featuring a collaboration between the Street Fighter brand and Ron English will be showcased during the event as well! Want more... check out the info below!
Featured Activities:
Street Fighter X Ron English – unveiling of exciting new art collaboration between world-renowned contemporary artist Ron English X Street Fighter brand; a special art exhibit will be available for viewing.

Street Fighter Tribute Art Exhibition – talented SoCal artists create contemporary SF art pieces.

Ono-san, Exec Producer Street Fighter – legendary Street Fighter producer traveling from Japan to receive SF art tributes and sign artwork.

Street Fighter Exhibition Tournament – some of the best SF players in SoCal will demonstrate their skill as they battle it out for SF prize packages.

Street Fighter Swag Shop – BAIT will launch their SF pop-up shop featuring all things SF including the newest collection of SF X BAIT wear and previews of cool new SF sneakers, bags, and boards from top designers
Sounds like fun... heck yes it will be, oh... and not mentioned above, but worth your visit would be the signing from artists
Kwestone, Kidokyo, and Jerome Lu of Hyperactive Monkey
!!! If anything, head on out to see their retail location... it's a really cool shop!!! HADOKEN!!!!!
BAIT Retail Store and Art Gallery
2753 S Diamond Bar Blvd, Ste B
Diamond Bar, CA 91765