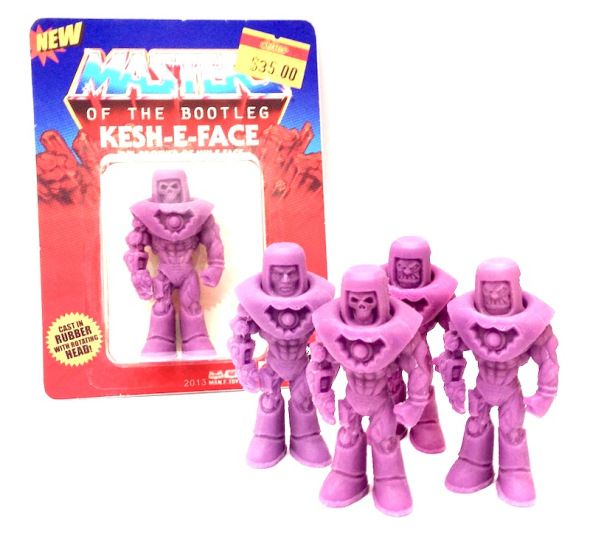 The debut release from The Disarticulators group will be the above pictured magenta "Grape" colorway of their KESH-E-FACE figure, a M.U.S.L.E.-esqe rendition of the famous "Man-E-Faces" from Masters of the Universe, made exclusively for the
previously announced
"(In)action Figure Show." Designed and sculpted by The Amazing Zectron, the figure was produced and packaged by Tru:Tek. Standing 3-inches tall, this rubber cast piece has a rotating head that is kept in place by magnets. Limited to only 5 pieces made in this color, the expected price point is $35 each.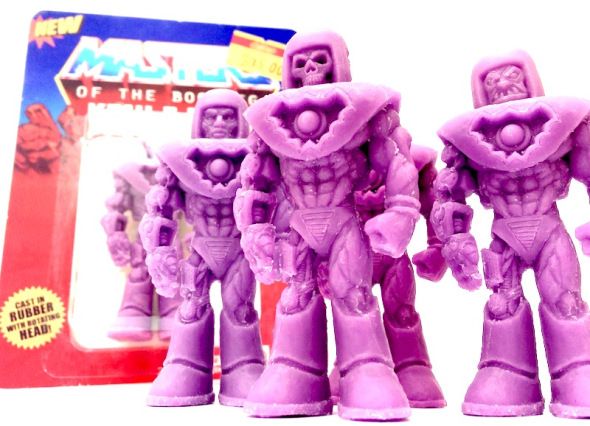 The "(In)action Figure Show" will open on Saturday, January 12th with a reception from 6-9PM and be available for viewing through February 2nd, 2013 at
The Clutter Gallery
, 163 Main St., Beacon, NY 12508. To get first option to buy from the show, you may want to join
Clutter's Gallery Preview List
.
Participating artists include: 2bitHACK, 4 the Luv of Toyz NY (Cash Cannon), BigManToys, Brutherford, ButcherBrand, Danny Frankenstein, The Disarticulators (Tru:Tek, Zectron & BigManToys), Eric Nilla, From the Styx Toys, Fuei Shokai, Galaxxor (Ben Spencer), Josh Longo, Healeymade, Killer Bootlegs, L'amour Supreme, ManOrMonster?, MonsterPants, October Toys, Ron English, Scott Wilkowski x Sucklord and Triclops Studio.
[Images and some information courtesy of the Man-E-Toys blog.]