Have you ever wanted to rock your favorite artists art on your wrist... well, now you can thanks to
Morphik
... with some serious style I might add! Well we ran into the folks over at Morphik during Designer-Con 2012 where they graciously walked us around their museum/gallery like booth which showcased their awesome products beautifully... and upon saying goodbye, handed us some of their products to review... needless to say, we were stoked, and here is a nice little review! They did a fantastic job at inventing jewelry that combines both authentic artwork and rich, relevant fashion fabrications, that pair unisex bracelets... nice and thick, almost like newer watch styles with authentic images of interchangeable artworks... and we got the "Hiding Out" piece designed by artist Nathan Ota!!!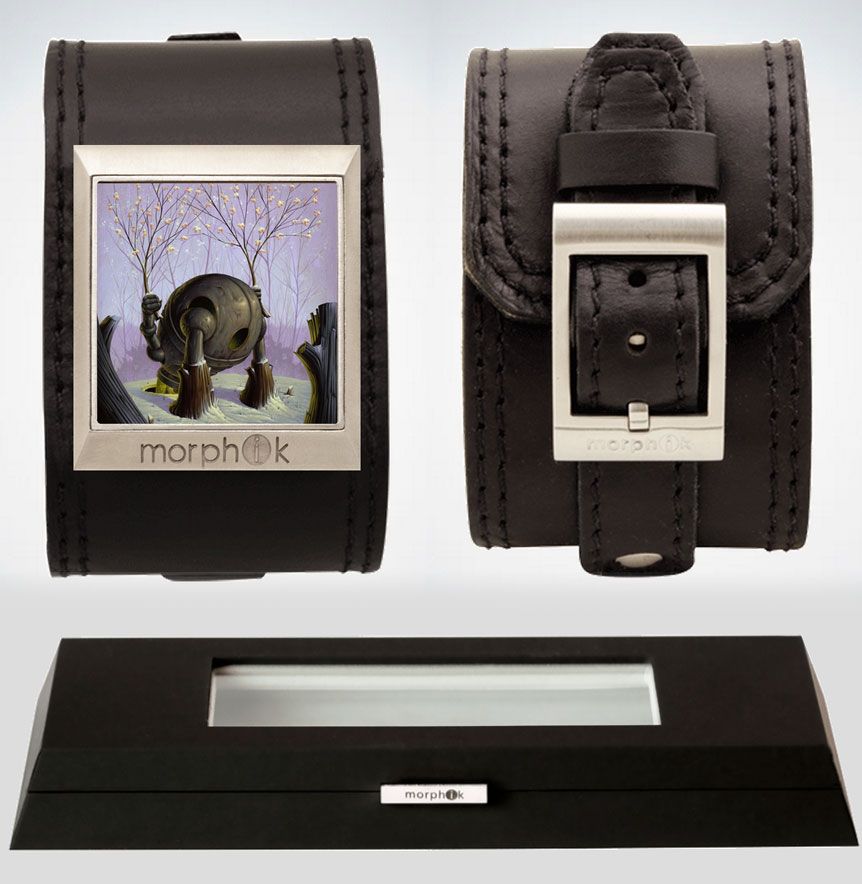 The art is printed on genuine fine art paper and placed under a scratch resistant cover and are set securely inside stainless steel frames, which are then dropped and locked magnetically into the branded wristbands, or the carrying, wall mountable, case! The artwork comes in a separate box in which it locks onto a chrome pedestal. The box then transforms into a frame, which can be hung on the wall as a work of art... they seriously thought of EVERYTHING!!! All of these are limited editions, and come packaged with a certificate of authenticity and booklet with the artist's bio and insight into all 4 licensed images are included. The band measures 71/4"-9" and retails for $295 which includes the artwork... if you already have a band, you can buy up individual interchangeable art works for just $70 a piece. Now, I know this is pretty pricey, but what you get in return is well worth it... these are sweet. Check out their site
HERE
, watch the video above, and go grab one of these!