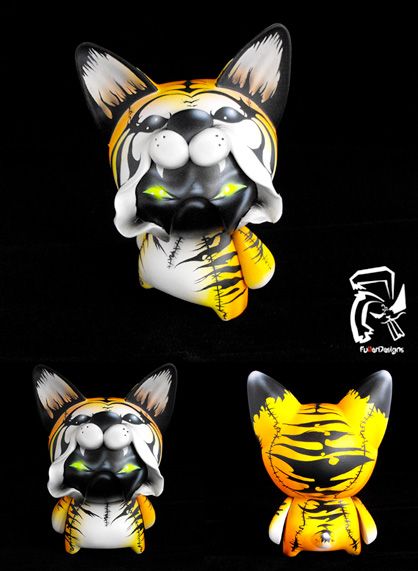 Just revealed via the MPH blog
HERE
, is that awesome custom that you see above, created by none other than
Fuller
! Titled "Grr…", this character is someone we have seen before, but never on the Fonzo platform... and wow did it translate over well! According to the artist, Grr is "a little monster of the jungle that doesn't want to be a monster so he dresses up like the other animals to fit in and make friends. But, they always know he's not a real tiger." The customs features Fullers unmistakable paint aplication as well as some rad sculptural elements!
"Fonzo Love NY" opens on January 11th and runs through February 3rd, 2013 at
myplasticheart
, 210 Forsyth St., New York, NY 10002.
Participating artists include
: 64 Colors, ArtmyMind, Andrew Bell, Ardabus Rubber, Aya Kakeda, Alisa Ross, The Beast Brothers, Bonethrower, Burundanga Design, Chuckboy, Camilla d'Errico, Charles Rodriguez, Dave Pressler, Doubleparlour, Fuller Designs, Gary Ham, Greg Mike, Grimsheep, Gabriel Carpio, Brandt Peters, Kathie Olivas, Hydro74, Ian Ziobrowski, Jeff Lamm, Jermaine Rogers, Jeremiah Ketner, kaNO, Martin Hsu, Nakanari, Rsin, Scribe, SouthernDrawl, Scott Tolleson and Thomas Han.