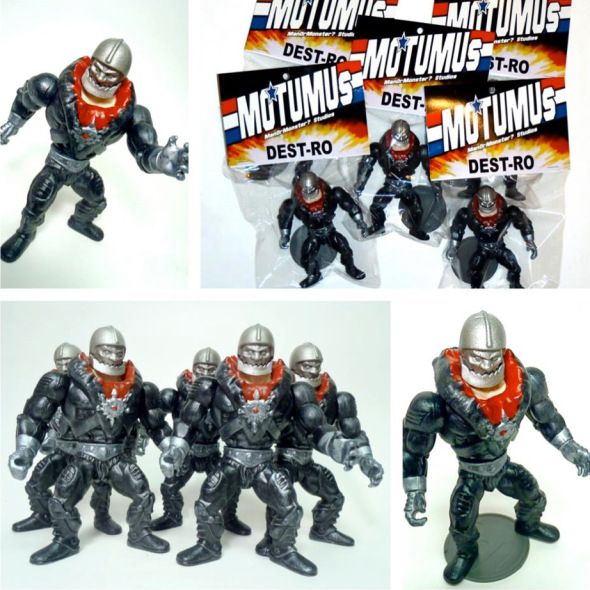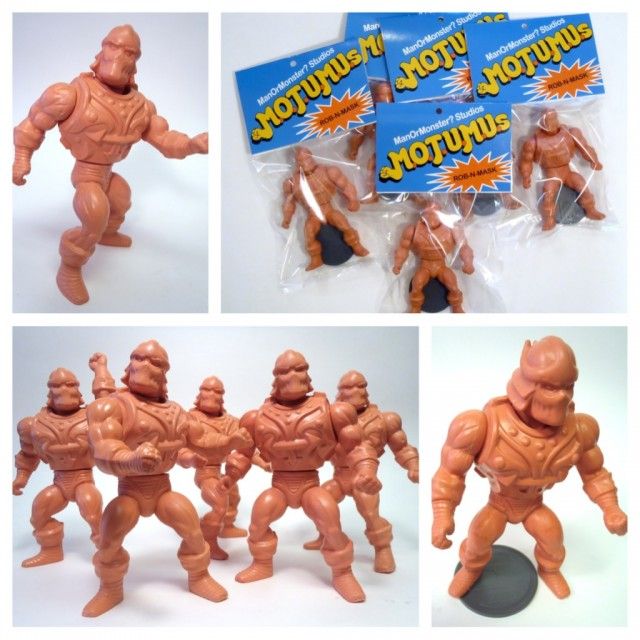 We recently reveaed
the new MOTOMU, or Masters of the Universe Mash-Up, line from Brandon Michael Barker (aka
ManOrMonster? Studios
), wherein he'll mash-up characters from other media with traditional Masters of the Universe parts. Pictured above are two of these figures that have been confirmed to appear as part of
The Clutter Gallery
's "
(In)action Figure Show
": the G.I. Joe inspired "Dest-Ro" and the Teenage Mutant Ninja Turtles based "Rob-N-Mask." Each figure stands 5.5-inches tall and uses five points of magnetic articulation that make them compatible (and interchangeable) with Barker's Warlords of Wor series. Barker is serving up a total of four different MOTUMU designs for the exhibition, each limited to five figures produced.
The "(In)action Figure Show" will open on Saturday, January 12th with a reception from 6-9PM and be available for viewing through February 2nd, 2013 at
The Clutter Gallery
, 163 Main St., Beacon, NY 12508. To get first option to buy from the show, you may want to join
Clutter's Gallery Preview List
.
Participating artists include: 2bitHACK, 4 the Luv of Toyz NY (Cash Cannon), BigManToys, Brutherford, ButcherBrand, Danny Frankenstein, The Disarticulators (Tru:Tek, Zectron & BigManToys), Eric Nilla, From the Styx Toys, Fuei Shokai, Galaxxor (Ben Spencer), Josh Longo, Healeymade, Killer Bootlegs, L'amour Supreme, ManOrMonster?, MonsterPants, October Toys, Ron English, Scott Wilkowski x Sucklord and Triclops Studio.
[Images and information courtesy of the Man-E-Toys blog and the Nerd City Online blog.]