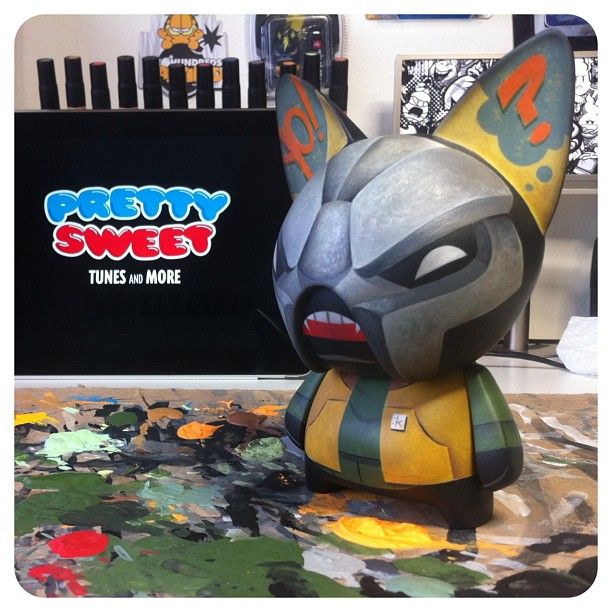 Regardless of your History teacher insisting its Eustache Dauger or your English teacher talking about the twin brother of Louis XIV, Philippe, all the cool kids know that the real Man in the Iron (er, Metal) Mask is MF Doom! And
kaNO
pays some seriously slick homage to ol' Viktor Vaughn by making a custom Fonzo in the iconic masked visage. Set to be part of the
previously announced
"Fonzo Love NY" group show presented by
myplasticheart
and
Freak Store
, this piece reveals the Vaudeville Villain (or is that the Venomous Villain?) just as you know and love him.
"
Fonzo Loves NY
" opens on January 11th and runs through February 3rd, 2013 at
myplasticheart
, 210 Forsyth St., New York, NY 10002.
Participating artists include:
64 Colors, ArtmyMind, Andrew Bell, Ardabus Rubber, Aya Kakeda, Alisa Ross, The Beast Brothers, Bonethrower, Burundanga Design, Chuckboy, Camilla d'Errico, Charles Rodriguez, Dave Pressler, Doubleparlour, Fuller Designs, Gary Ham, Greg Mike, Grimsheep, Gabriel Carpio, Brandt Peters, Kathie Olivas, Hydro74, Ian Ziobrowski, Jeff Lamm, Jermaine Rogers, Jeremiah Ketner, kaNO, Martin Hsu, Nakanari, Rsin, Scribe, SouthernDrawl, Scott Tolleson and Thomas Han.