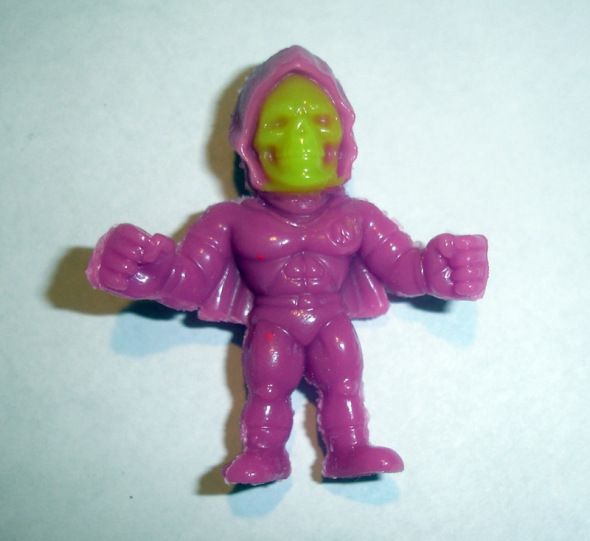 Continuing his "M.U.S.C.L.E.s of the Universe" series, which mashes classic M.U.S.C.L.E. and Masters of the Universe designs,
Eric Nilla
has rubber cast the above pictured edition of the "Skelitor" figure. Originally created by Wolf "SolarColorDust" Voigt, this version of the roughly 2-inch tall Skelitor figure is COMPLETELY made out of rubber… no paint application at all. While there is no official news as to the price, quantity or availability of this piece, we have a sneaking suspicion that it will be part of the
previously announced
"(In)action Figure Show."
The "(In)action Figure Show" will open on Saturday, January 12th with a reception from 6-9PM and be available for viewing through February 2nd, 2013 at
The Clutter Gallery
, 163 Main St., Beacon, NY 12508. To get first option to buy from the show, you may want to join
Clutter's Gallery Preview List
.
Participating artists include: 2bitHACK, 4 the Luv of Toyz NY (Cash Cannon), BigManToys, Brutherford, ButcherBrand, Danny Frankenstein, The Disarticulators (Tru:Tek, Zectron & BigManToys), Eric Nilla, From the Styx Toys, Fuei Shokai, Galaxxor (Ben Spencer), Josh Longo, Healeymade, Killer Bootlegs, L'amour Supreme, ManOrMonster?, MonsterPants, October Toys, Ron English, Scott Wilkowski x Sucklord and Triclops Studio.
[Images and information courtesy of the Man-E-Toys blog.]