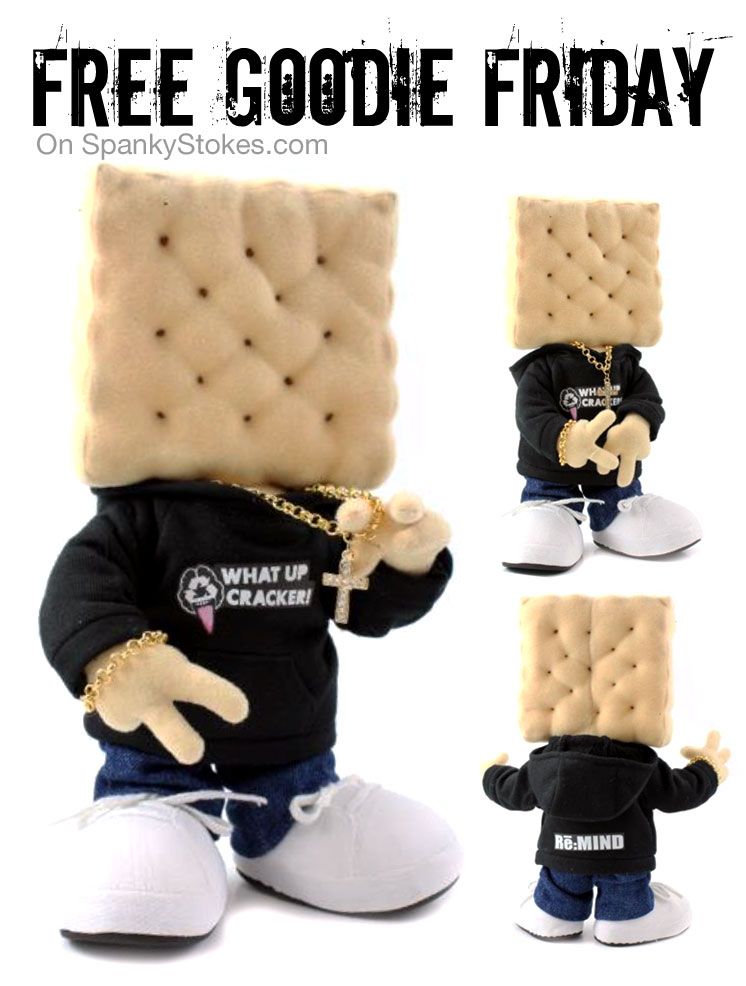 Rock-N-Roll party people... it's Friday, and that can only mean one thing...
FREE GOODIE FRIDAY
!!!!! Today we are super stoked to be bringing you a really awesome giveaway, and for all you who are not familiar with the work of Matt Riley of
Re:Mind Studios
, you are in for a treat as he has graciously donated one of his amazing hand-made plush figures for our giveaway! Matt, originally from Boston, is splitting time between China and Hong Kong working for toy companies, and during his off time he creates these amazing figures - known as "EMPTY's"! Oh, and this 10" tall bad boy that you see above dubbed "Cracker"
(for obvious reasons
) was first seen at Dragatomi's '
Plush-o-Rama
' show late last year, and is up for grabs! For this giveaway we are going to try something new, an Instagram based giveaway, sooooo follow along with the few steps listed below, and one of YOU will walk away with this amazing figure!!!! Wanna know how? Keep reading...
1. First up you gotta sign up for Instagram on either your iPhone or Android... if you are already signed up... head on over to your Instagram account and add @Remind_Studio and @SpankyStokes as you friends and then find the image in their feed with the above "Cracker" character and

LIKE

it. Next... just leave

any comment under each photo, on each of their feeds, and make sure you end the comment with the hash tag #RemindSpanky

. That has tag is your entry, if it's not there, you are not entered... pretty easy right?

2. Want an additional entry (

this is also for those who don't have access to Instagram

), just leave a comment in this post telling Matt who/what you would like to see created as a plush figure... it can be anything, be creative and have fun!

That's it!!! This contest will end
Sunday night 6/10/2012 at 10:00pm
so you only have
a few days to get your entries in
, after all is said and done, one lucky winner will have this awesome hand-made plush figure shipped out to them! Good luck to all that enter, and a big thanks goes out to
Re:Mind Studios
once again for such a great prize!
One last thing...
if you are viewing this post on a browser, you can log into your Instagram account by clicking
HERE
, and then visiting Re:Mind (click
HERE
) and SpankyStokes (click
HERE
) and do all of your contest entry stuff that way!
****UPDATE****

Alright folks, thanks so much for entering, and being part of our first Instagram contest! Expect more of those in the future as it's a fantastic way to network and show off art for artists and brands alike. Soooooo, let's get down to it.... the winner of this awesome prize is
Chris Brett
... so he has this awesome plush "Cracker" coming to him! Thanks again to all that entered and a HUGE thanks to Matt of
Re:Mind Studios
once again for donating such a great prize!