Well look what we have here, another post on
Buff Monster
... it looks like it's gonna be that type of day, and why not because not only does he plan on releasing his brand new "Boob Ball" figure tomorrow, but he will have his new trading card series, the "
Melty Misfits
" series 1 up for grabs!!!! Now, we got ahold of these, and decided to do a LIVE unboxing for those of you who tuned it, we had a great time... but for those who did not, it's posted above so you can see all the greatness that you are in store for! Needless to say, these are awesome... and for those of you who grew up in the 80's or were just a fan of Garbage Pail Kids... these are for you!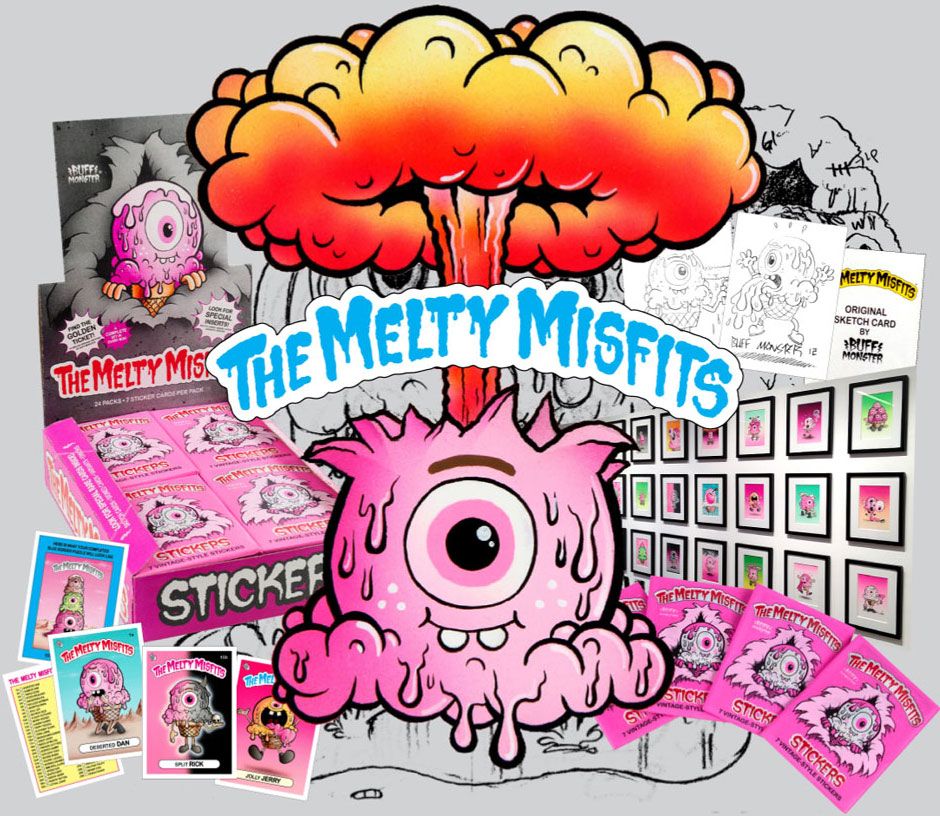 The Melty Misfits is a set of trading cards created by Buff Monster and produced by Sidekick Labs. With an incredible eye for detail, Buff Monster went to great lengths to create the highest quality homage to Garbage Pail Kids possible... no joke!!! Each of the original paintings used for the cards was painted 5"x7" using acrylic and airbrush, just like the original GPK paintings were done. The cards are offset printed using custom-mixed inks on custom-made sticker stock, kiss-cut and packaged in a vintage-style wax wrapper. The backs of the cards feature puzzles, checklists and reproductions of the pencil sketches used to paint the cards... a really cool touch, and I ended up pulling some really cool rare cards! Each unopened box contains a complete set, along with special inserts such as signed cards, variants, errors and a poster. Some boxes have original sketch cards, and one box will have the Golden Ticket - redeemable for an original painting by Buff Monster, the first painting completed for the this series, but never used on a card - AWESOME!!!
HERE
and will be very limited. Buff mentions that he will have unopened boxes and sets of 4 packs for sale as well as a few Gallery Edition sets up for grabs which were only released at the Corey Helford Gallery for Buff's "Legend of the Pink Cherry" exhibition. This a true retro throwback with a modern day twist... and Buff went to great lengths to make this project possible... I for one can't even begin to imagine the amount of time and effort put forth to create a whole trading card series. The video is long, but it really shows off all of the cards... so if you have some time to kill, give it a watch... better yet head on over
HERE
tomorrow and pick some up for yourself!