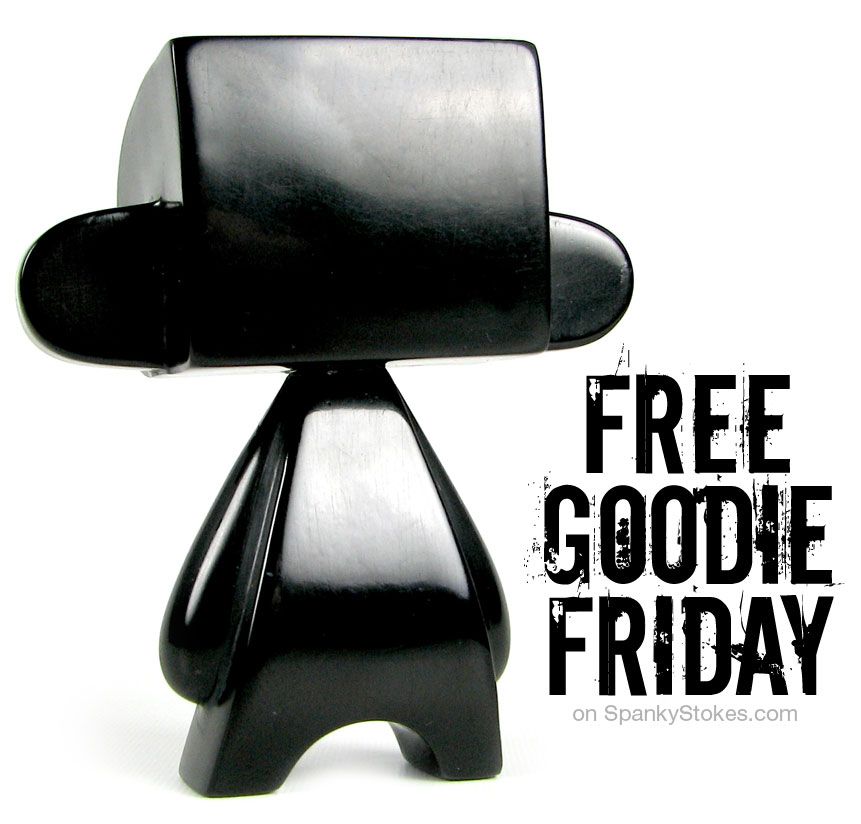 Awwwwwwwww yeah!!!!! It's Friday and you know what that means... time for another FREE GOODIE FRIDAY giveaway, and today we have a super special one thanks to Jeremy Madl aka
MAD
as he has donated one of his handmade, handcast resin
Mini-MAD*L figures
... and more specifically his all Black, now
SOLD OUT
edition. This run of 20 figures was released last week, and sold out in seconds... lucky for us, MAD keeps 5 of everything he makes for himself, and he is donating this
Artist Proof
for YOU all to have a crack at it! This figure stands 3" tall and is quintessential to all MAD fans out there... shoot, to all designer toy fans. So, wanna know how to add this guy to your collection, keep reading...
1. First up, visit the MAD Toy Design Facebook page HERE and 'LIKE' them, and while you are at it hit up the SpankyStokes.com Facebook page and 'LIKE' us too!

2. Next, give MAD a follow on his brand new MADLbrand Twitter page HERE, as well as SpankyStokes.com a follow HERE... then send out this tweet "

I am entered to win an all BLACK resin Mini-MAD*L from @MADLbrand . Go to http://bit.ly/1tOrAy to enter now! #SSMAD

" You can just copy and paste the above quoted text, without the quotes of course, and make sure that it includes the #SSMAD tag as that is how we track you :-)

3. Finally, just leave a comment in this post telling MAD what the color of his next Mini-MAD*L resin figure should be. This is your time to get his attention... so come up with some good suggestions, and who knows... it might just make the cut!

This contest will end
Sunday night 4/22/2012 at 10:00pm
so you only have
a few days
get your entries in
, after all is said and done, 1 very lucky winner will be chosen at random and will have this awesome resin figure sent out their way! Good luck to all that enter, and a big thanks goes out to MAD once again for donating such a sweet contest prize! Oh, and be on the lookout for his next Mini-MAD*L resin figure to drop next week sometime... the clear blue "
Breaking Bad
" edition.
****UPDATE****

Alright folks... what a HUGE success this contest was, and thank you all for entering! MAD got a grip of new followers, and now you will all be 'in the know' when he drops his next awesome product. But, enough with the small talk... let's announce the winner!!!! Out of all the entries I plugged them into a random number generator and the one entry who arose victorious was Carson C.
@CarsonCatlin
... so congrats man!!!! A huge thank you all once again for entering and also to
MAD
for donating such an epic prize. FGF will be taking a week off this week, but will have a GREAT giveaway in the first week of May, so stay tuned!