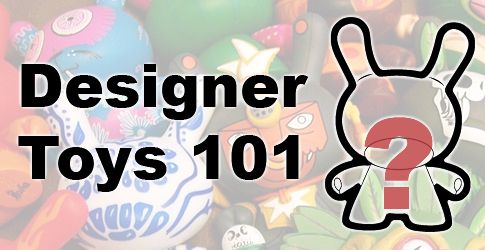 If you are new to this column, it is truly meant to be read from the beginning to the most recent.
Please start with the first installment, "What are Designer Toys?"
There are three questions that get asked regularly that I dread answering; not because they are particularly difficult, but rather that the subjects are huge and it is highly unlikely I could do them justice. Today, I'll tackle one of those questions… What online Designer Toy resources should I use? Yes, people frequently ask where they should go online to get information and interact with their fellow vinyl aficionados.
The true problem with this query is that there are SO many resources out there, the answer would have to be tailor made for you and your interests within the community. So instead of failing to answer this question properly, I shall simply tell you what I personally use; hopefully, for those asking, it can at least be a starting point.

Social Media: The most common thing I use on a daily basis is Twitter, Instagram and Facebook. These are, without a doubt, the best means to get information direct from the source (aside from an artist's personal site, though they tend to announce things on their social media pages first anyhow). Search for the artists and companies you like and follow them, easy as that. Want to know which I follow? Here are links to my pages in each: @TrustPigs (Twitter), @TrustPigs (Instagram) and Nick Curtis (Facebook).
There is a rather new social media site directed strictly to collectors: Curicon. I have an account but haven't had a chance to thoroughly play with it yet. But I get the feeling that this might evolve into a truly worthwhile resource given time.

Blogs: Obviously SpankyStokes (on which you are reading this) is my primary answer, but even I check out what others are doing. No one has the time to cover everything, so I do read Vinyl Pulse, Clutter Magazine, Urban Vinyl Daily, T

OYS

RE

VIL

and Tenacious Toys on occasion. More likely than not, though, I'll check out one of the uber-specialized blogs; my favorites being Kaiju Korner, Kaiju Monster and Man-E-Toys.

Toy Break: A YouTube channel with weekly videos showing off what