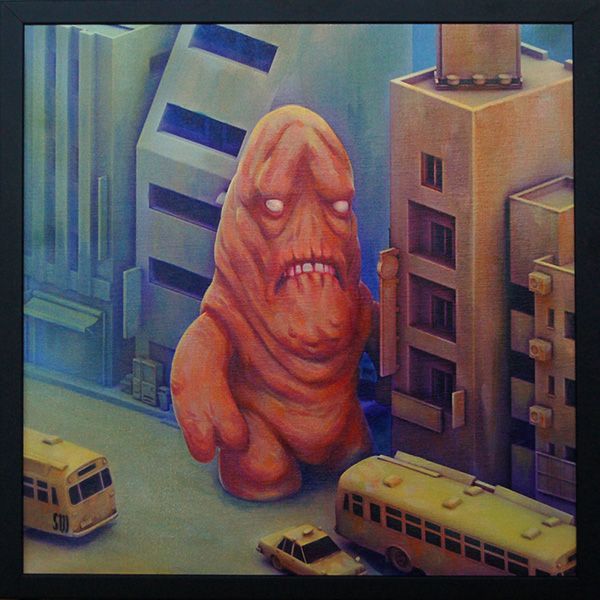 Sure that massive monstrocity might wreck the city just a bit, but think of all the other creatures that he scares off? That's why Scott Wetterschneider of
Shinbone Creative
's mixed media painting is entitled "Hometown Hero." Measuring 19"x18", this wonderful work is part of the upcoming "Strange Beasts: A Tribute to the Japanese Kaiju Phenomenon" art show at Austin, Texas's
Guzu Gallery
.
"
Strange Beasts: A Tribute to the Japanese Kaiju Phenomenon
" opens on November 30th from 7 to 10PM and runs through December 31st, 2012 at the
Guzu Gallery
, 5000 N Lamar Blvd., Austin, TX 78751.
Participating artists include
: Joshua Budich, Nicole Cantu, Jason Chalker, Tracie Ching, Tim Doyle, Clay "Ferg" Ferguson, Matt Frank, Paul Hanley, Alexander Iaccarino, Shawn K. Knight, Danny Miller, David Moscati, New Flesh, Jesse Philips, Zach Taylor, Eric Torres, Vincent X. Torres, Nathan Walker, Scott Wetterschneider and Robert Wilson IV.