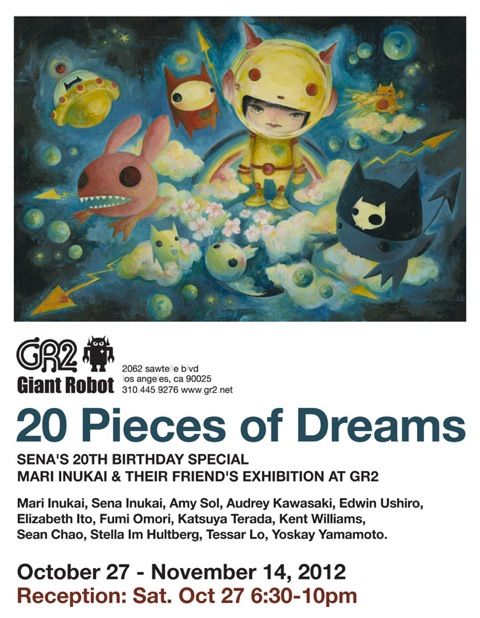 Giant Robot 2 prepares to exhibit "20 Pieces of Dreams," a group show of
Mari Inukai
and friends to celebrate the 20th Birthday of Sena Inukai, Mari's daughter. According to the press release, "in Japan, a 20th Birthday is a 'Coming of Age' birthday," meaning that "it includes ceremonies and parties, and it's akin to becoming 21 in the US." "
20 Pieces of Dreams
" opens on October 27th and runs through November 14th, 2012 at
Giant Robot 2
, 2062 Sawtelle Blvd., Los Angeles, CA 90025.
Participating artists are:
Mari Inukai, Sena inukai, Amy Sol, Audrey Kawasaki, Edwin Ushiro, Elizabeth Ito, Fumi Omori, Katsuya Terada, Kent Williams, Sean Chao, Stella Im Hultberg, Tessar Lo and Yoskay Yamamoto.