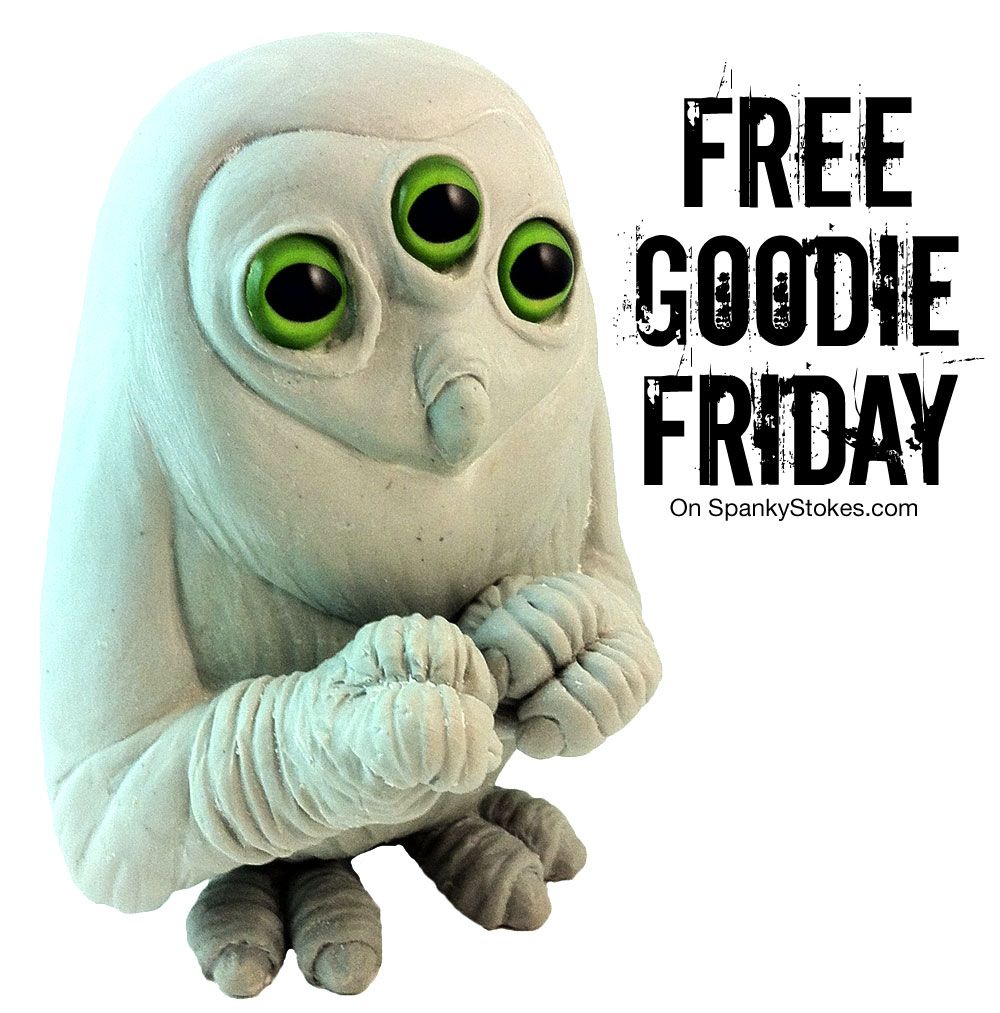 Man ohhhhhh man... I can't believe it's Friday, and that SDCC 2012 is over now!!!! Crazy how this year is flying by... oh well, that just means one thing... more FREE GOODIE FRIDAYS to be had by all, and today we are stoked to announce a special giveaway thanks to Kevin aka
Motorbot
as he has donated a brand new figure to this cause! Titled "
Scowl
" which stands for Scary Owl, this 4" tall soon to be resin figure will be up for grabs today for one lucky winner... before it's released to the public which will be on July 27th, 2012... and the kicker, you get to choose the colors you want it to be! A contest worth playing for... I think so! Wanna know how to win, keep reading...
1. First up, give Motorbot a follow on Twitter HERE, as well as SpankyStokes.com a follow HERE... then send out this tweet "

I just entered to win a resin "Scowl" figure from @Motorbot - Go to http://bit.ly/1tOrAy and enter now! #SSMOTR

" You can just copy and paste the above quoted text, without the quotes of course, and make sure that it includes the #SSMOTR tag as that is how we track you :-) .

2. Now, visit Motorbot's Facebook page HERE and 'Add Him As A Friend', and then hit up the SpankyStokes.com Facebook page and 'LIKE' us too!

3. Finally, just leave a comment in this post answering this question... "If you were a Scowl, out in the wild... what would you eat?" That's all... super simple right?

Now, each one of those steps is an entry... so if you do all of them, you get 3 entries!!! This contest will end
Sunday night 7/22/2012 at 10:00pm
so you only have
a few days
get your entries in
, after all is said and done, 1 lucky winner will be chosen at random and will have this awesome gift sent out their way! Good luck to all that enter, and a big thanks goes out to
Motorbot
for making this happen.
****UPDATE****

Alright folks... you all rock my socks, and that kinda goes without saying, but thanks so much for entering this contest!!! Soooo, the moment you have all been waiting for, who's the lucky winner?!?!?! We plugged in all the numbers, hit up Random.org and the winner of this rad upcoming resin figure from Motorbot is
THE BLOT
, so congrats! Seriously though, thanks so much for entering, and a HUGE thanks goes out to Motorbot for donating such a cool prize!