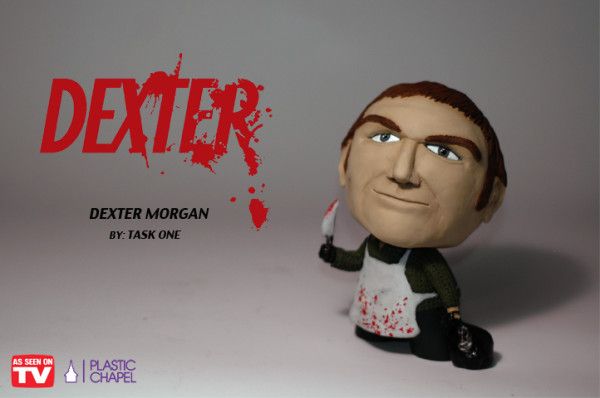 Continuing the teasers for the
previously announced
upcoming
Task One
solo show "As Seen On TV," we have a custom Munny made to resemble Michael C. Hall's character Dexter Morgan from
Dexter
. Task One continues to do an outstanding job of converting the plain white Munny form into something truly special for television fanatics… not only does he nail Dexter's sly & knowing face but adds all the tell-tale markings of the character's nightly persona: the blood-splattered apron, freshly used knife (I'd imagine the proper scalpel would've been too hard to craft from scratch), and the body filled garbage bag. Brilliant job.
Task One
's "
As Seen On TV
" solo gallery show opens on June 9th with a reception from 6-10PM at
Plastic Chapel
, 3109 E. Colfax Ave., Denver, CO 80206.