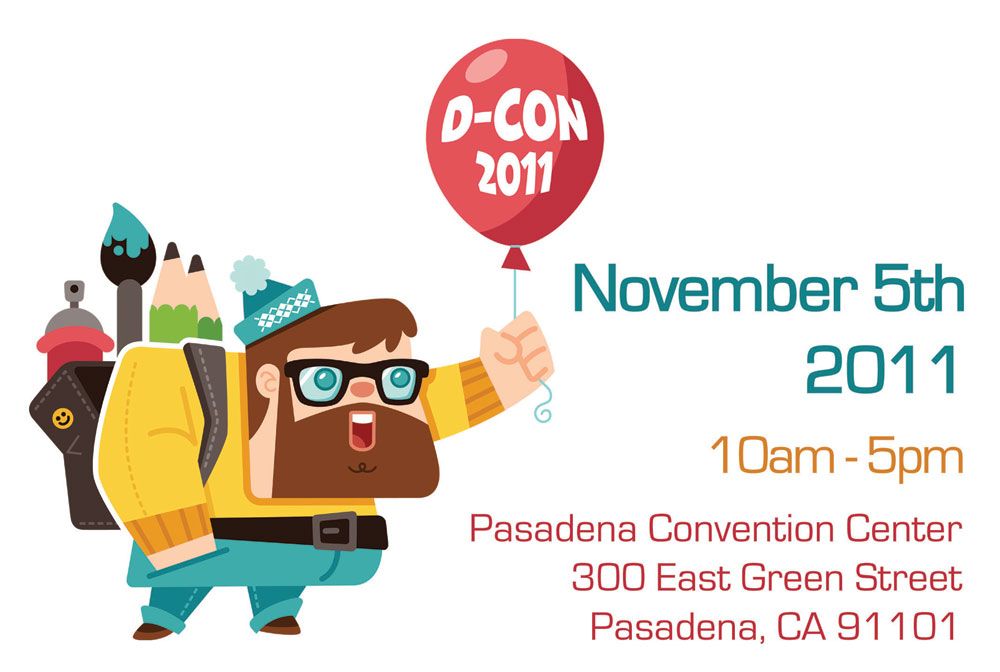 Designer Con 2011
(
November 5th, 2011
) is just around the corner, in fact we are just
two weeks out
... so we figured it only prudent to pass along the information that was sent to us to get you all hyped up early for this awesome event... so below is just a few of the events in the works for this year's show which will again be at the Pasadena Convention Center (
now in Exhibit Hall B
) with more vendors, more toys, and more fun... and of course the EPIC SS.com booth that does tons of rad giveaways throughout the day! Stay tuned these next few weeks as we will be posting fast and furious exclusives and events happening on November 5th!
- Goodie Bags will be available for $5 each on a first come first served basis. There will be 100 limited edition Designer Con bags filled with toys, magazines, pins, stickers, and surprises!

- Dr. Sketchy's Anti-Art School is the world's premier alt.drawing movement that has now spread to over 100 cities around the world. Founded in 2005 in a dive bar in Brooklyn, artists draw glamorous underground performers in a variety of sexy costumes.

- World's Biggest "Blindbox Time" brought to you by Toy Break and Designer Con! Bring a blindbox toy from home or buy one at the show and join us as we attempt to break the largest recorded group blindbox opening record from last year!

- LEGO Art Show featuring dozens of original LEGO creations curated by Brandon Griffith!

- Live Painting throughout the day! Attending artists include Doctor A, Scott Tolleson, Ragnar, Chris Ryniak, Brandt Peters, Kathie Olivas, Mr. Toast, Christopher Lee, DrilOne, Leecifer, Tracy Tubera, Holly Stanway, Neil Winn, and more. Past shows have also featured artists such as Frank Kozik, Joe Ledbetter, Amanda Visell, Michelle Valigura, Nathan Hamill, Tim Biskup, Buff Monster, Greg "Craola" Simkins, Angry Woebots, Bwana Spoons, MAD, Miss Mindy, Jeffery Scott, David Horvath, Sun-Min Kim, Luke Chueh, and many more.
When:
November 5th, 2011 from 10 am to 5 pm
Where:
Pasadena Convention Center, Exhibit Hall A, 300 E. Green Street, Pasadena, CA 91101
Admission:
$5 online pre-sale; $7 at the door
Website:
DesignerCon.com