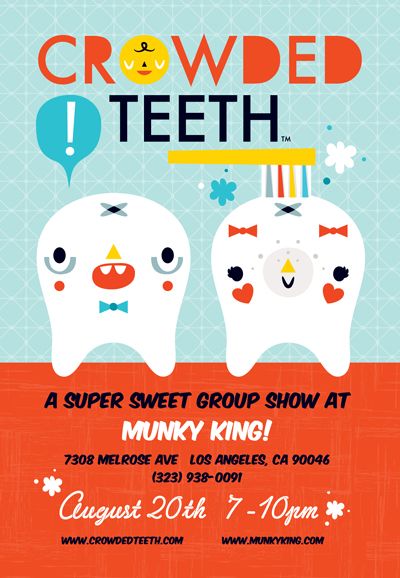 Munky King
&
Sweet Streets
invite you to "Crowded Teeth", a group exhibit inspired by the fanciful world of Crowded Teeth... and that's exactly what is going to be on display, a ton of pizza shapped customized wooden boards to form a ton of teeth!!!!! The artists list is insane, and it includes:
Angry Woebots, Anne Imai, Brent Nolasco, Chikuwaemil, Eimi, Julie West, Kayo Tamaishi, Karen Chau, Luke Chueh, Mainframe, Martin Hsu, Microu x Eimi, MISO, Mizna Wada, Motorbot, NICO, Sheryo, Shojono Tomo, Suiko, Superham, SketOne, TOUMA, Triclops, Yuki Takahashi, and yucachin'!

Above are just a few previews from this show... with many many more
HERE
! The show is set to open up on Saturday, August 20 and will run through September 7, 2011. This will be a great time, and will have live music, food, and I am sure a ton of the participating artists will be in attendance as well!
Munky King Melrose
7308 Melrose Ave.
Los Angeles, CA 90046