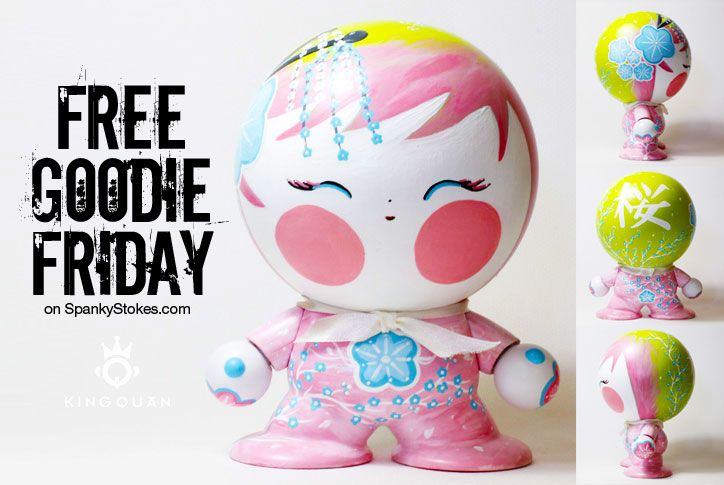 Oh what!?!?! You hear that, me neither... but here we go again, another Friday... and another awesome giveaway for FREE GOODIE FRIDAY and this go around we have a really special item for you all to win! Today artist Quan Vu aka
KingQuan
is donating his amazingly cool custom Symbiote named "Yukka" which was featured in the custom show at
Dragatomi
earlier this year. This fully customized figure is 100% hand-painted by Quan and features his beautiful Asian inspired cherry blossom design... it's an awesome piece and you have the chance to win it! Wanna know how? Keep reading...
1. First up you gotta give Quan a follow on Twitter HERE and SpankyStokes.com a follow HERE then send out this tweet "

I am entered to win a beautiful custom vinyl figure by @kingquan_ Go to http://www.spankystokes.com to enter now #SSQUA

" You can just copy and paste the above quoted text, without the quotes of course :-)

2. Next, just leave a comment in this post! I can be anything, you can tell Quan how awesome he is for donating such a rad piece, or you can tell us what you are doing this weekend... easy enough right?!?!?


This contest will end
Friday night 8/12/2011 at 11:59pm
so you only have
24hours to get your entries in
, after all is said and done, one lucky winner will be chosen at random and will have this amazing custom as part of their collection! Good luck to all that enter and a big thanks goes out to
KingQuan
once again for such a great prize!
****UPDATE****

Alright the moment you have all been waiting for, the announcement of the winner... and boy did we have to sort through a ton of entries, from all around the world I might add! So lets get to it... after all was said and done, the numbers plugged into
Random.org
, one winner stood out... so congrats goes to
Cam Dietrich
! This amazing custom is taking a trip all the way around the world to Australia... so congrats Cam, and thanks to all who entered... and an even bigger thanks goes out to
KingQuan
for donating such an epic prize! See you all next week where we are going to giveaway another great prize, so keep those eyes peeled and spread the word about SpankyStokes.com