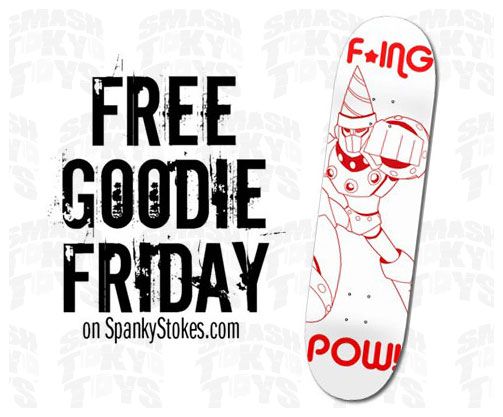 Well hello there everyone... it's April and it's time for another FREE GOODIE FRIDAY, you stoked?!?! I know I am, and today we are giving away a super sick prize thanks to MattyBoomBatty of
Smash Tokyo Toys
as he put up one of his very limited edition Seismic Ace "F*ING POW" Skate Deck's... you read it right, we are giving away the deck and after seeing this in person, it's rad, and I wanna keep it for myself... but alas, I can't! Now you may be wondering why we do this, well it's because YOU all rock and it's a way of thanks thanks for supporting SS.com! On to the next question... how can you win this? It's really easy, first off head on over to
Smash Tokyo Toys
Facebook page
HERE
and friend them, then leave a single comment in this post below answering the question if you won this deck, would you hang it on the wall or skate it on the street? See... I told you it was easy :-) You can also earn ONE additional entry by using your twitter account and entering this text
"I am entered to win a SmashTokyoToys Skate Deck from @MBoombatty
go to http://bit.ly/eNeUsy to enter now #SSTOK and PLS RT :-)
" You can just copy and paste the above quoted text, without the quotes of course :-) Good luck to all, and thanks so much to
Matty
for donating such a great piece. The winner will be announced in the following days.
It has been a long time coming and sorry for the delay but I have finally had the opportunity to draw the winner for this contest and after a ton of entries, thank you so much by the way, we have a winner. Picked at random I would like to congratulate
killtheremix
, you have an awesome deck thanks to Mattyboombatty of
Smash Tokyo Toys
! Thanks so much to everyone who entered and most of all thanks to Matty for donating such a sweet prize!