Something about the French... their designs, their ideas, and the production of their toys, they seem to be just on another level and that it totally the case with this new art toy from artist
Alëxone
titled "French Lowrider". This really unique piece is based on one of his painting (a tribute to his old Citroën BX), was sculpted by Julien Moreau and produced by
Artoyz Originals
, the French Lowrider is the 1st vinyl toy ever released by Alëxone and it stands 9" wide and 6" tall... and in those dimensions this piece is filled with all kinds of beautiful intricacies!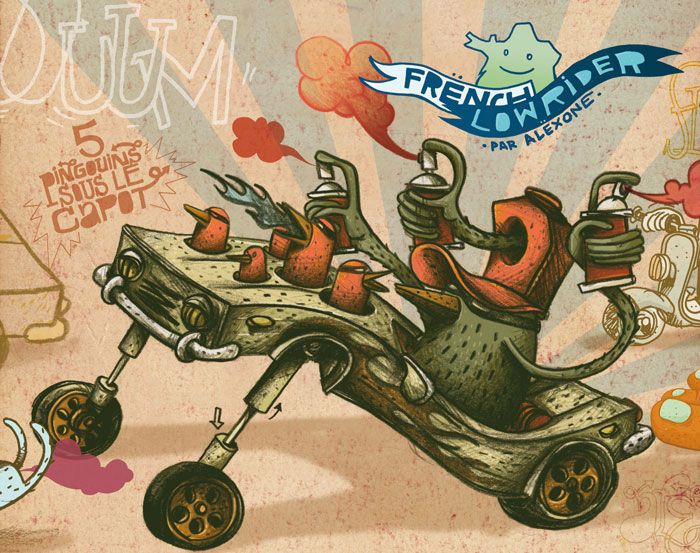 Behind the wheel is a masked penguin, the iconic character from Alëxone's world, and is equipped with rattle cans in both hands, and sports two bendable arms (
plus an extra one on the removable cap
)... a silly concept for sure, but man is this piece aesthetically pleasing! Oh, and to make this even wackier, this piece has 5 smaller co-pilots penguins popping outta the hood! It's alot of fun to see companies pushing the limits on what they produce... and this I think will pay off! This particular version is limited to 150 pieces, set to retail for around $100, and is for the now open exhibition at
Galerie L.J.
in Paris titled "Y a pas photo" and can be snagged up shortly thereafter via the Artoyz website
HERE
I presume!