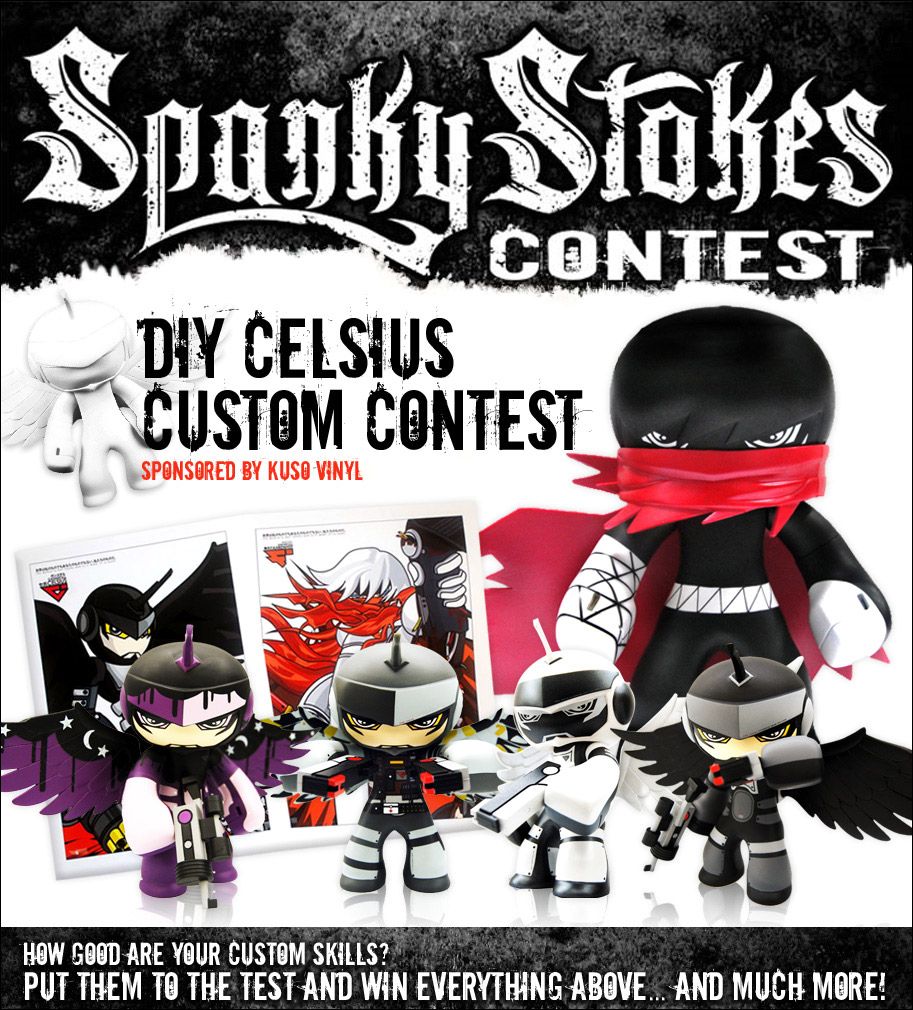 custom
Celsius
that was entered into our "DIY Celsius Contest"
(original post HERE)
. We had 20 entries into this contest, and they are all so stellar... but which one will come out victorious and win the massive prize package... that is up to you! The voting will go on for 5 days, so this will be closed Friday, September 10th at 11:59pm PST.
Please only vote once
, but encourage friends and family to vote as well, and if you need more help deciding,
CLICK THROUGH
for a full slide show of all the submitted pieces from all angles.
I would like to thank all that participated, you guys all killed it, and I would also like to thank
Kuso Vinyl
and
Rotobox Vinyl
for making a really cool platform as well as putting together such an amazing prize package! You should head on over to their sites to check out all their other goods, some rad stuff! Also, remember to click
HERE
for more pics to help you decide on the winning custom!
******We Have A Winner******

First and foremost, thanks to all the amazing artist for submitting the fantastic designs, this would not be possible without you, also to
Kuso Vinyl
and
Rotobox Vinyl
for putting together an awesome prize package and for making such a cool platform to work on. After the tally has been counted and all the votes are in we had well over 2,000 fans weigh in on their favorite custom Celsius. It was uncertain to begin with as all entries were even during the first couple days of voting, and then a few started to break away from the pack... leaving a clear-cut winner in first place, and now congrats goes to:
**1st Place**
#11 Michael King
808 total votes
**2nd Place**
#14 Nico Deacosta
606 total votes
**3rd Place**
#9 NewSkool Tattoos
243 total votes
Congrats goes out to the top three as you all will be contact shortly so we can get your respected prize package sent out to you, and once again thank you all for participating and for making such amazing customs. Look for another contest like this in the near future, and thank you all for your constant support!