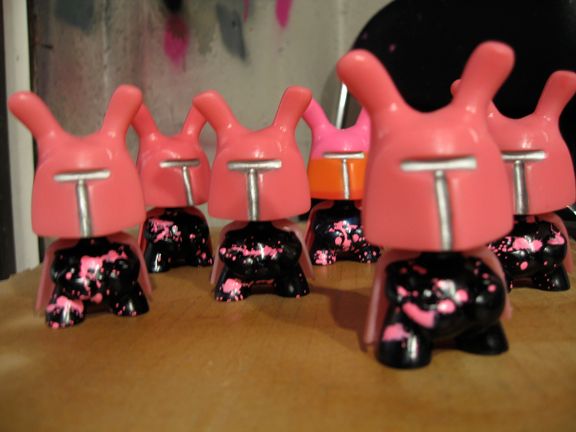 Cookies -N- Cream
is on a roll this month with yet another announcement of an exclusive Mobile Store release. They have teamed up with the one and only
SUCKLORD
to release an official/un-official bootleg "Dumny" figure designed exclusively for C-N-C! Only 6 of these are going to drop this Saturday, July 3rd, 2010 as they will be parked at the corner of Prince street & Broadway street in New York City by 12:00PM... and be on the lookout because Sucklord himself may be lurking around.
This is what Sucklord had to say about this release:
"
This "Dumny" is part of a stash of illegal bootlegs seized from a rival sweatshop in Chinatown by the Sucklord and his minions. After destroying his competition, the Sucklord took all their swag, added his own flair and repackaged them as Suckadelic pieces. This particular version is available only off the C -N- C truck in an edition of 6.
"
Make sure you follow C-N-C on Twitter
@TheCookiesMob
to be certain of our location on that day as they might have to move around due to parking space conflicts. These pieces will sell for
$40 each
, and should go fast so make sure if your diggin the pink-n-black to get down there asap this Saturday!