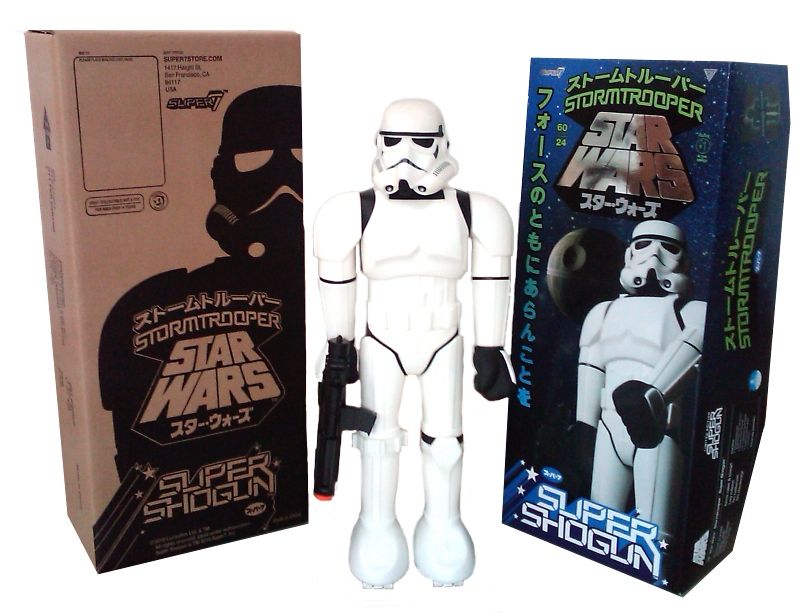 So... since were on the subject of
Super 7
... I thought I would also mention just this little ol event that is happening this Saturday as well, you know the release of just another Star Wars figure... but,
THIS THING IS HUGE
, and the event is going to be even HUG'ER
(I know, I know not a word).
The time has finally come for the official release party of the SUPER SHOGUN STORMTROOPER, which has been in the works for many years and finally brought to life by Brian Flynn of Super 7. This figure is a limited edition of only 1200 pieces, and is based on the vintage style Japanese Jumbo Machinders... and just like those old school figure this beat is 24" tall and includes a blaster rifle and a spring loaded explosive fist. To get a better look at this figure, Justin of
Fresh like Coconut
posted up an awesome unboxing video!
This event is going down on Saturday, June 12th, 2010 with the doors opening at 6:00pm, and be sure to arrive early, as the first 100 people thorough the door will be given a unique Star Wars themed collectible, which will act as your raffle ticket. A random drawing later in the evening will award a prize package including one of the SUPER SHOGUN figures – a $299 value! Come on out to either buy one, or try your luck at winning one!
Super7 Store
1628 Post Street
San Francisco, CA 94115
Source [Super 7]