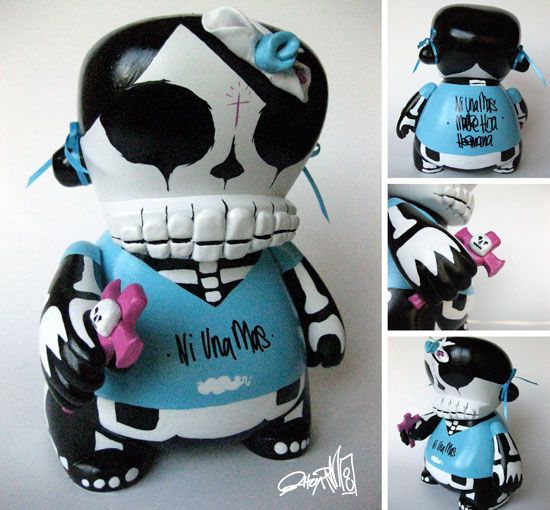 Artist:
Ritzy Periwinkle
Title:
"NI UNA MAS" (
Translation "Not One More"
)
Platform:
Bic Buddy
Medium:
Sculpting material, acrylic paint, ribbon, sharpie, and love!
Ritzy Periwinkle
draws upon her influences as a Chicana and totally smashed her custom 8" Bic Buddy out of the park! This is another Dia De Los Muertos theme... similar to her production 3" for series one of the Bic Buddy minis. This piece evokes so much emotion... as Ritzy explains to me that the back of her piece says "NI UNA MAS MADRE HIJA HERMANA" (
Translation "Not one more mother, daughter, sister
") and she continues to explain that "
Since March is Women History Month my 3 pieces for the 3 exhibits I'm in this month are in protest of the Femicides happening in the city of Juarez and surrounding cities in Mexico. The Pink Cross is in remembrance of those that have been kidnapped, killed and/or raped since 1993.
" What a fantastic and meaningful piece of work. Come out and meet Ritzy in person at
Crewest Gallery
in Los Angeles on March 27th, 2010! Then her piece as well as the rest will be traveling to
Zakka
in New York on April 9th, 2010!