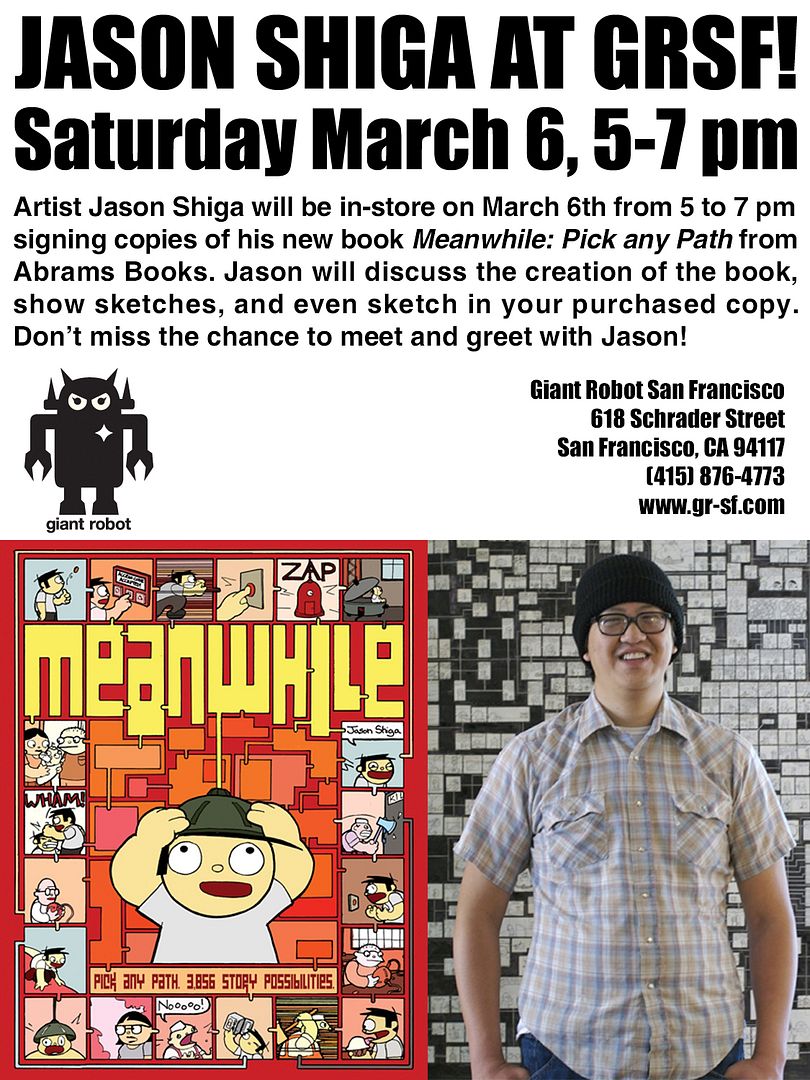 "Meanwhile"
by Jason Shiga at GRSF
Saturday, March 6, 2010
5:00 pm - 7:00 pm
Luke Martinez from
Giant Robot San Francisco
just gave me some great news about an upcoming meet/greet/sign with comic book artist
Jason Shiga
to celebrate the release of his new publication "
Meanwhile
". I really had no idea about Jason's work until I got the email, and I can honestly say that I really like the simplistic approach to sketching and drawing that he does, the event should be great and below is a little more info to help wet your whistle!
[Press]
In Meanwhile, a pick-a-path graphic novel for kids (and kids at heart), it's up to readers to decide the fate of the protagonist, Jimmy, when he finds himself in a mad scientist's lab and is given the choice between three amazing objects: a mind-reading device, time travel machine, or a Killitron 3000. Starting from the first choice (between vanilla and chocolate ice cream) a series of tabs along the edge of the page allows readers to spiral down, around, and through a dizzying array of tubes that contain puzzles, clues,, and shocking revelations for our reluctant hero. There are also hidden codes leading to secret pages, which offer even more adventures to explore in this parallel universe.
GRSF
618 Shrader Street
San Francisco, CA 94117
gr-sf.com
415-876-4773