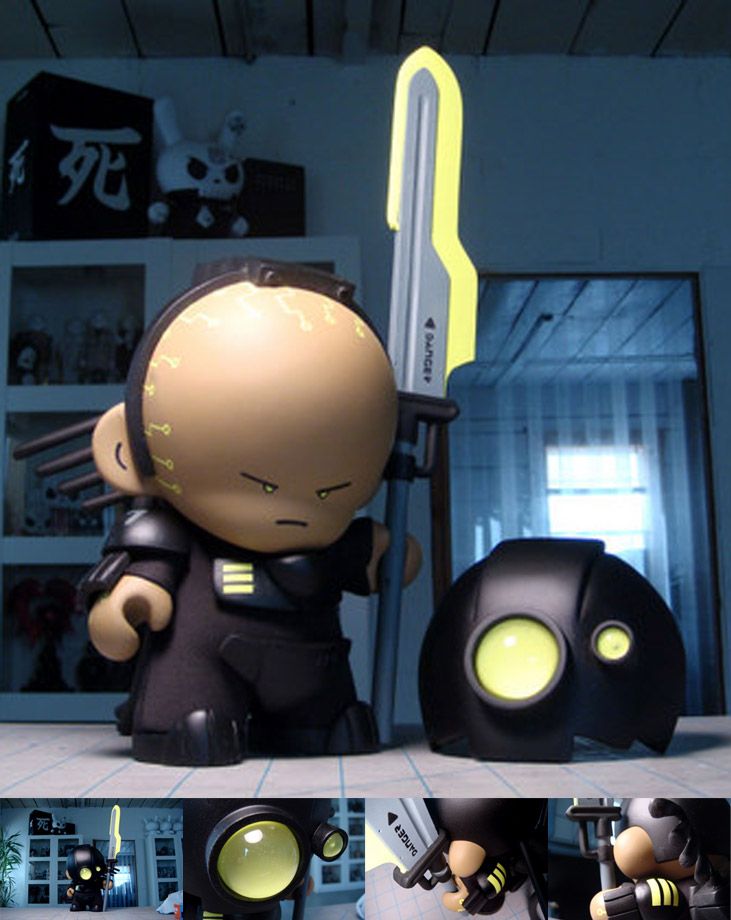 Huck Gee
just released one of his very revealing newsletters, and in it was an awesome new custom figure titled "
La Muerte Negro
" and as seen from his last release this figure seems to be the bad/dark counterpart of his "
Los Angeles De La Muerte
" custom that was released last month! This is a custom Munny, fully equiped with body armor, a giant futuristic spear type weapon, and a great amount of detail that we have all come to expect from his series of customs. This, just like the majority of his releases, was created as a 10 figure set, and each one will retail for $800 per figure.
La Muerte Negro background story:
"
On Naoya 13 there are many whispered tales of people disappearing in the night. Sometimes, they are tales of revolt, of dissidents and rival political parties. Sometimes they are tales of justice in the underground: of pit fighting organizers, of gang lords, or of corrupt police. Sometimes they are just tales indeed... People may never know the answers they seek but when darkness descends, when evil things happen and they leave not a trace, they blame La Muerte Negro.
Officially, La Muerte Negro does not exist. The Taurenos royal family denies their existence. There is no La Muerte Negro. But the people know better. They were told the tales as children, to keep their lives straight. The tales evolving as they grew older, no longer just myth. Everybody knows someone that knew somebody that disappeared. The people know what darkness patrols the city when the sun sets... the people know...
"