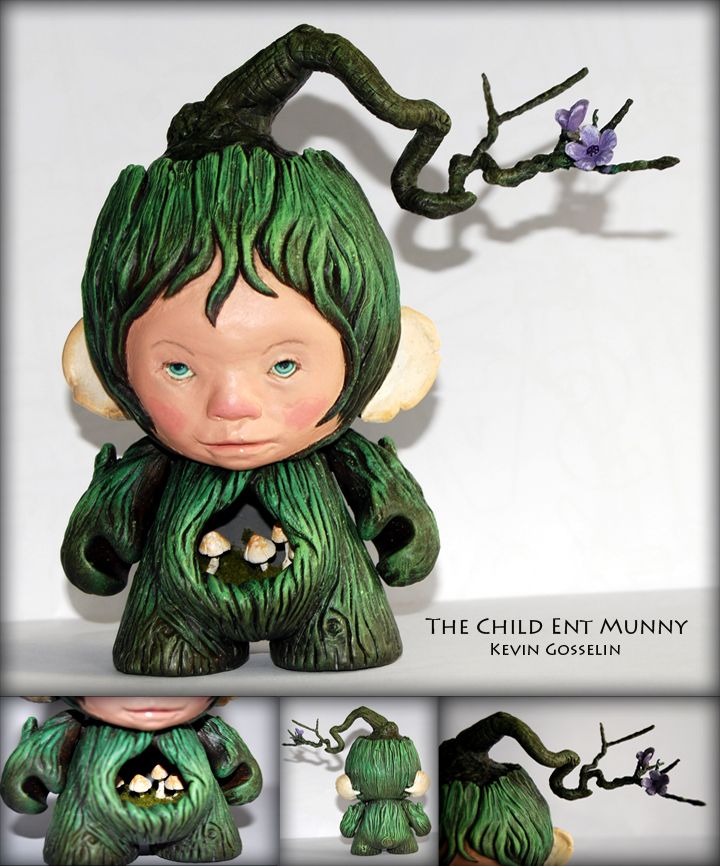 Kevin Gosselin
is relatively new to making customs, and to the vinyl scene in general. He was a graphic designer for 9 years up until September when he decided to pursue fine art. His brother was the one who pushed him in the right direction where he finally entered a piece into the KidRobot MunnyWorld contest, and he took one of the spots with his piece titled "The Dunny Eater" (
check it HERE
) he also just finished a recent commission piece titled the "Dunny-Mounted Labbit"(
check it HERE
). Now he is just trying to find his style and build his skills.
This last piece titled "The Child Ent Munny" (
posted above
) is the second Ent he has made. He had some time over the holidays and decided to revisit the Ent theme. It was made using a polymer clay and floral wire for the bonsai. The piece took about a week to make but was in part due to redoing the face and the tree. He had originally done a much older looking face, and had a much busier tree. This seriously is so sick and keep your eyes on Kevin, because he is on FIRE! This piece is available for purchase
HERE
for only $125... so go snag it up!