The Warm & Fuzzy Show, the EclectiXmas Art Exhibit
Just in time for the holidaze,
Eclectix
offers up some warm art to wrap around your walls. Featuring selected bodies of works by Arabella Proffer-Vendetta, Chad Frick, Chiami Sekine, Chrystal Chan, Jamie Fales, Johnny Thylacine, Michelle Waters and Yvette Buigues. Fun and furry creatures, cute little girls, fabulous and glamourous women in furs, warm little critters and fuzzy teddy bears. Of course, a few will also have that twisted, eclectic wit. There will also be an Xmas tree trimmed with artisan fuzzy ornaments, perfect for stocking stuffers. Get your holiday cheer on here!
Exhibit Dates:
December 11, 2009 - Jan. 10, 2010
Opening Reception:
December 11th from 7-10 PM
Music by Eclair De Lune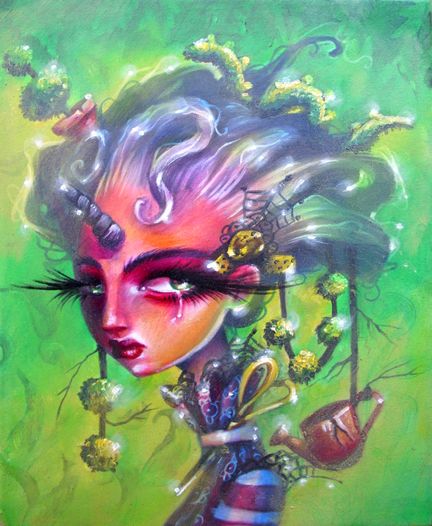 Delicate, A Solo Show by Kurtis Rykovich

Luminous
lush and fashionable works by the Bay Area's own artist extraordinaire, Kurtis Rykovich. His "Nesting Among Lemons" won the "Best of Show" in the
Eclectix
"Eat It" exhibit and now he's back with all new works. Girls with dreamy expressions and stylin' fashions pose in their own beautiful fantasy worlds. Some are sexy, some are moody and some are downright deep thinkers; but all are dressed in brilliant hues, floating strands of delicate hair and sparkling adornments. Small works, priced right, for that special someone...( or for your special self ).
Eclectix Gallery
10082 San Pablo Ave.,
El Cerrito, CA 94530
For Hours and More - Please go to:
http://www.eclectix.com