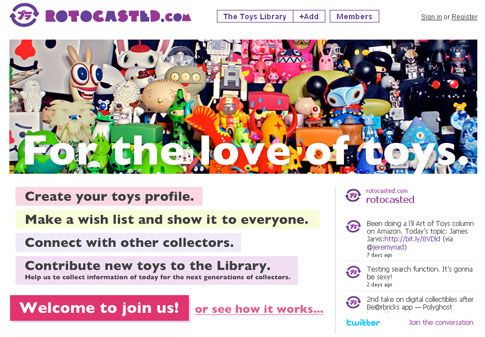 If you haven't updated your Haves and your Wants on
Rotocasted
lately, you should stop by and check it out. It recently went from Alpha to Beta, and more features are on the way. If you're not familiar with Roto, it's an original idea by Russian artist,
Sergey Safonov
to harness the obsessiveness of the collecting community and create an art toy database. If you're not familiar with Sergey, he's having a banner week following the reveal of his Moon Fox photograph by
Brian McCarty
and an
appearance on BoingBoing
. Congrats, Sergey!
I've been addicted to Roto for several months, and Sergey bestowed upon me the title of Volunteer Librarian. You'll find some familiar names on Rotocasted: artists, toy shop owners, photographers, bloggers, folks you know from twitter and the boards... The best part for me is being able to have a visual representation of my collection wherever I've got an Internet connection. Also, when it comes to wheeling and dealing, I can save tons of keystrokes and just link to my Roto wishlist. Or, more specifically, does anybody out there need
these
, because I kind of have to get rid of them before my wedding next month...?
Rotocasted is an evolving work-in-progress, and most of the volunteers are spread across several continents. Give it a chance if you see something funky. We're working on it. For the latest news,
follow Rotocasted on twitter
.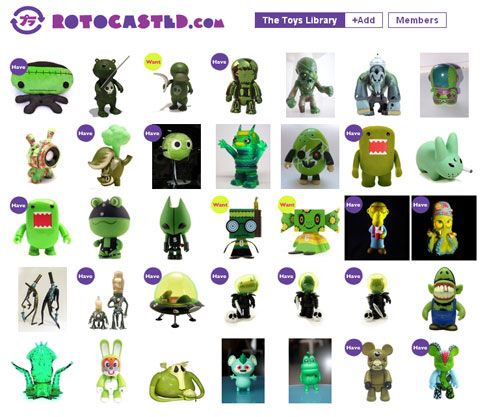 Search by color. (My green Haves and Wants)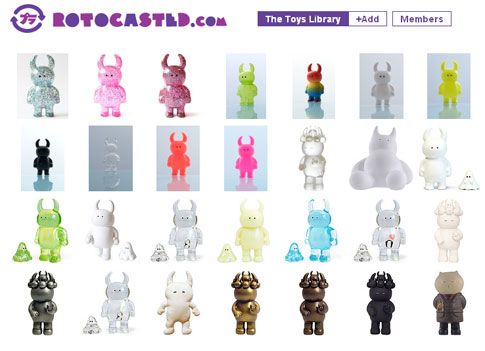 Search by artist.
Search by company.